Lt General Raymond Noronha (Retd.)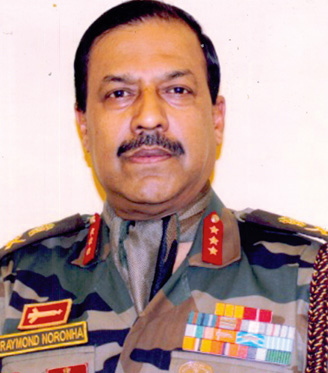 Professional Director
Lt. General Raymond Noronha (Retd.) PVSM, AVSM**, SM retired as the Chief of Staff Southern Command after 40 years of distinguished and decorated service.
Awarded by the President of India for his services
Param Vishisht Seva Medal
Twice awarded the Ati Vishisht Sena Medal
Sena Medal
To his Credits:-
Extensive service on Indo-Pak and Indo-China Borders
Counter Terrorism and Counter Insurgency operations in J&K and North East India
Instructor at a premier Army Training Institution
Held important operational and strategic appointments at the apex level
Raised the fi rst Mountain Strike Corps of Indian Army
Trainers Profile
The Training Team consists of the best of the best Special Operations Veterans from the NSG (Black Cats),
Army Special Forces (SF), Marine Commandos (Marcos) and experienced Army Instructors.
Col. V.G. Pande - Group Commander
Veteran with 30 years of experience
Black Cat Commando (NSG)
Extensive Counter Insurgency Experience
Part of United Nations Mission Congo
Col. Milind Patwardhan - Deputy Group Commander
Veteran with 26 years Experience
Has rich combat experience of Counter Terrorism Operations.
Taken part in more than a dozen encounters in J & K Valley
Capt. Fajru Khan - Squadron Commander
Veteran with 28 years Experience
A Weapons and Tactics Specialist
Instructor of Young Officers of Army
Subedar Ramakant Chaudhari – Squadron Commander
Para Commando
Specialist in High Altitude & Jungle
Demolition Expert and Sky Marshal
Cdo. Vikram Pujala – Squadron Commando
One of the 1st Batch of 8 Marcos respondants at the 26/11 Taj attacks
Operational experience at Sea and Counter Insurgency
A Black Belt
Havildar Rafik Shaikh - Security Officer
Paratrooper from Mechanised Infantry
Counter Insurgency Experience in the East
Ace Shooter
Ms. Sultana Shaikh - Trainer
Expert Mountaineer with many expeditions
Outdoor Activity Trainer
Pravin Athavle – Senior Instructor
Well versed with Local terrain
Good knowledge of local customs, flaura & fauna
Arshad Shaikh - Senior Instructor
Black belt in Taekwondo
Self Defence techniques expert
Devesh Kelkar – Senior Instructor
C' Certificate holder of the NCC
Qualified in Disaster Management & Urban rescue operations.